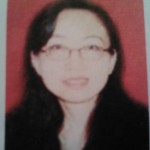 Xiao (Shiao) Wu, OMD,Lac. Dipl Ac, Dipl CH
Graduated from the Chengdu University of Traditional Chinese Medicine (Acupuncture, Chinese Herbology), China, as a Doctor of Traditional Chinese Medicine with Medicine Degree in 1984.
This Doctor of Traditional Chinese Medicine program includes six (6) years of formal training (5 years academic and 1-year postgraduate) in the practice of Chinese Herbology and Acupuncture.
After graduation, an invitation was accepted to join the staff of the largest and most prestigious Acupuncture Institute at the China Academy of Traditional Chinese Medicine, Beijing, China.
The first six months (6) of association with the China Academy was spent on researching, analyzing and editing old traditional Chinese medicine, acupuncture, Chinese herbs texts as an Assistant Editor of the Ancient Books Publishing House, Beijing.
For more than six (6) years, Dr. Wu worked as a Clinic Physician at the Acupuncture Institute , and in addition to the standard practice of Acupuncture and Chinese Herbology, Dr. Wu became one of the selected few members of the Institute to have the responsibility to teach Traditional Chinese Medicine, Acupuncture, Chinese herbs at the International Acupuncture Training Center for the UN's World Health Organization (W.H.O.). The students (mostly "Western" Medical Doctors) came from all over the world.
Since arriving in the U.S. in 1990, Dr. Wu has practiced Chinese medicine, Acupuncture,  herbs continuously. In 1990 Dr. Wu received her Florida Acupuncture License.  In 1996 she achieved national certification in acupuncture and herbology and in 2000 (since the GA. Law was enacted) her Georgia Acupuncture License.
In order to better serve the American Community, Dr. Wu has continued to broaden and deepen her already rich Chinese medicine-acupuncture, Chinese herbs-clinical experience. Despite her busy daily practice, she not only earned a Nutrition degree in 1995 as the class Valedictorian, published three books with ancient books publishing house, but continues to actively take part in the national and international Traditional Chinese Medicine academic exchanges and conferences every year.
With her solid formal training and 30 years post-graduate experience as a Doctor of Traditional Chinese Medicine practicing Acupuncture and Herbology, Dr, Wu's rich expertise has drawn patients from different parts of the country and the world. She had been one of the founding people who helped legalizing GA Acupuncture law, had appeared on CNN (1996), radios, local communities and magazines, such a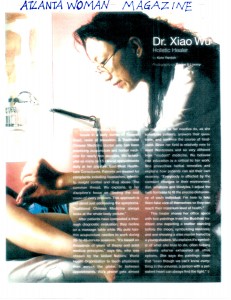 s the one on Atlanta Woman Magazine (Jan. 2004); her clinical applications have been directed toward a multitude of various conditions including pain control, visceral pathologies, psychologies and substance abuse, addictions (drugs, alcohol, smoking and "weight").
Click here to view the article featured on Atlanta Woman Magazine(attached)
Licensed, Florida Acupuncturist since 1990
Certification by the National Certification Commission for Acupuncturists and Oriental Medicine (N.C.C.A.O.M.) Washington D.C. for both Acupuncture and Chinese Herbology since 1996.
Licensed, Georgia Acupuncturist since inception, 2000
Member, TCM Doctor Alumni Association(US) since inception
Member, American Association of Oriental Medicine (AAOM)
Member, Beijing Acupuncture Association
Member, China Acupuncture Association
Member, China Association of Traditional Chinese Medicine
"Ancient Wisdom For Modern Times"
                                                                                                                                     Copyright 2000-2014 by East-West Health Care Consultants,Inc. All rights reserved